The Olympic Games is a very unique and  special sports event in comparison to other specific disciplined sports competitions and looking back at the Games in London it was a very successful hosting and contained some inspirational performances.  Among the outstanding organisation and participation at London there was a great spirit to these Games. Not just for the fact that Team GB excelled as a group of competitors but it's one of the only Games I've watched where so many  medals have been won and achievements made beyond the expectations of what we in the past have considered to be predictable performances in a lot of events. It was a Games that hopefully now will be remembered for its culture, competitive nature and its inspirational achievements.
The Games although successful in its entirety did not come without some controversy, Here's my brief rundown of the London Olympic Games High's and Low's.
High's
As a runner I may be bias but to me athletics is considered one of the pinnacle sports of the Games. I enjoy watching everything at an Olympics and think that some of the achievements were outstanding across all sports, but this year the athletics was awesome. With over 200 nations competing in the stadium (about 5 times the amount of most sports), we were lucky enough to witness World Records, Double Champions, medals won by nations for the first time, African dominance broken in the distance races and cultural exchange among athletes. When  Lord Coe talked about London 'inspiring a generation' with these Games, athletics was a great showcase for this.
For Great Britain to finish so highly in the medal table and win so many Gold's was a testament to how organising a competition like the Olympics can inspire athletes to excel. It wasn't just a reliance on favourites in most sports as athletes like Paula Radcliffe, Phillips Idowu, Shanaze Reade for various reasons didn't end with the results we expected, but it was the surprise medalists that made Team GB's success special. The ability of  someone like Mo Farah to do the double against such immense competition on the track, the GB cycling team (with less funding over the past 4 years than in the preparation for Beijing) to still win as many medals , established athletes like Ben Ainslie to mix it up again in the sailing and some stand out surprises like Peter Wilson taking Gold in the Shooting.
A big contribution to the amazing Games this year was the atmosphere at the events due to the supportive crowds. The continuous comments by athletes about the energy of the crowds made events that much more of an experiences for everyone. Packed out stadiums and multicultural support was seen across all venues and people spent considerable time and money on investing in enjoying the Olympics in London, without this the competition could have suffered along with performances. Even watching events on tv and seeing the full venues was a relief after the highly speculated ticket application system that left many without any tickets. Some of the real winners were the free events where people congregated in the streets to support, rows deep with impaired views just to get a glimpse at the amazing competition.
Low's
 Performance enhancing drugs
Again each major competition brings suspicions. When listening to people talk and the media report it is of my opinion that the public have no real clue as to the extent of availability/distribution and use of drugs among athletes, but we all have an opinion! Of course every now and then some athletes test positive (Belarussian Shot Putter) and are subject to punishment derived by their sporting Governing Body, but the occurrences of this should never be enough to outweigh the efforts of the people who are not testing positive. From swim WR's, cycling time trial domination to 1500m winning margins the 'blame culture' that we live in always points the finger at the first opportunity. As an athlete you have to believe in the system that regulates the sport and give credit to the training and effort that is applied every day by hardworking  athletes. For example a young female Chinese athlete who swims an incredible race in the individual IM becomes the topic is suspicion by others by swimming a faster freestyle leg than a man, yet no one mentions that it's not the first time in a Major Championship that Ryan Lochte has swum a slower freestyle leg than a female swimmer despite his faster overall time. The merits of 'super athletes' like David Rudisha who broke 1.41 for the 800m (in my opinion the best individual performance at the Games) were never questioned, so it's a shame that specific athletes are targeted as under suspicion of using performance enhancing drugs ?
The first thing to say here is how subjective this topic is. Team GB were remarkable, and having spent the first few days chasing their maiden Gold medal they excelled as a team and clearly prepared well for the Games. So why have they achieved where other countries failed? Firstly there is no doubt that a host nation performs well due to home advantage, great motivation from fans and four years of endless resources being pumped into athlete development. In addition they have discretionary places in some sports (without qualification) increasing the possibility of success.  I believe that all performances this year (good or bad) can be accounted for if indulged for a minute and conclusions not jumped to. Australia's overall position was criticised this year due to less medals primarily in swimming, but taking into account athletes with recent injury problems, young athletes in their first Games and having their trials so early in the year meant success proved difficult.
For the first time in decades there was no male representative from the USA in the 400m final, but has anyone considered the seasons form of the athletes achieving in the 400m and that the final had the years most consistent athletes.The African nations again were less established  on the track this year, but with the resurgence of European and American nations there were always going to be losers in London. This Games has been exciting due to the amount of athletes that have won medals in events where they previously would not have been expected too. Whatever the outcome of the medal table every country will be able to look at their results and highlight medals that they won that were not predicted in the same way others may be disappointed in their results due to exceptional form by other athletes coming into the Games.
OH DEAR Great Britain, what were you thinking on this one! They may have been a part of our culture, but one to forget!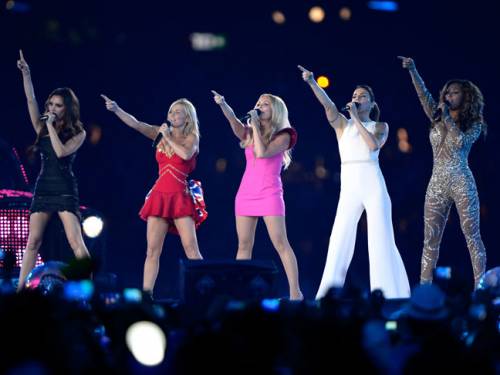 Paralympics London 2012
 The 14th Paralympic Games will be commencing this week. After London's successful Olympics it will be great to see the continued competition as Paralympic athletes battle it out over 2 weeks.
Here are some of my picks for athletes to watch:
David Weir (Great Britain) Great Britain's number one wheelchair racer and track athlete.  He won Gold in Beijing 800m and 1500m in his category, and multiple winner of the London Marathon wheelchair race.
Oscar Pistorius (South Africa) Known as the 'Blade Runner', South Africa's has been in the spotlight over recent years not just for his outstanding performances as a track athlete, but due to his participation at the recent London Olympics where he competed alongside able-bodied athletes.
Esther Vergeer (Netherlands) Dutch wheelchair tennis player with a record of 465 singles matches.  She is world number one and comes to the Games as favourite looking to win her fourth gold.
Matt Cowdrey (Australia) Multiple medallist in Beijing, Matt won 5 gold's and 3 silver medals at Beijing, the 23-year-old has the potential to exceed his achievements in swimming to become one of Australia's most noted athletes.
Sarah Storey (Great Britain) Seven times Paralympic athlete Sarah started her career as a swimmer and brought home medals in her first 4 Paralympic Games from 1992-2004. Now competing in cycling she has competed in the Commonwealth Games 2010 against able-bodied athletes and won 2 Gold's in Beijing on the track.
Antonio Tenorio (Brazil) 4 times Gold medallist in the B1 judo category and Brazilian hero, he has moved up through weight categories through consecutive Paralympics.